Real estate ownership can open many doors for investors and homeowners, but it comes with the price of diligent planning and financial discipline. As if buying or selling a home separately wasn't enough work, some ambitious real estate investors are interested in buying and selling at the same time. If this sounds like you, then planning and consulting with an experienced realtor is a must. Read on for guidelines on how to sell your home and buy a new one simultaneously with grace and style.
Getting started
Start with extensive planning. What repairs does your current home need? What's on your must-have list for the new home? In what timeframe do you want to sell and relocate? While you can begin working through priorities on your own, it is advisable to hire a realtor early in the process. Realtors vary in terms of the specific services they provide, but you will definitely be able to plan your purchase and sale more effectively with guidance from a professional. An experienced realtor can help you better understand the basics of the real estate transactions, such as getting preapproved for a mortgage, ordering a home inspection, staging your home, setting a list price, and working through other real estate logistics.
Financial planning
While the financial planning of a simultaneous purchase and sale can be intensive, it is certainly doable. If you haven't been through this process before, don't sweat it too much. Since it is relatively common for homeowners to sell one residence and purchase another, the real estate industry is well-adapted to accommodate financial and logistic complexities arising from a simultaneous purchase and sale.
One of the foremost considerations for many real estate investors will be determining how to finance a purchase while still trying to close a sale. There are financial products and services designed for just such a situation. In particular, a
bridge loan
may help you finance a home purchase with funds that will ultimately be derived from your sale, even before the sale closes.

As experienced home buyers know, getting preapproved for a mortgage is a great step to take so you can approach your purchase confidently. In some cases, there may be a clause in the purchase agreement that makes fulfillment of the contract contingent upon successful financing. A home sale contingency can allow for the closing of your purchase to be contingent upon your successful sale. Ultimately, you can discuss with your realtor and loan officer to better understand the steps you will need to take in financial planning.
Although realtors are not financial advisors, they can assist with basic financial considerations, property valuations, and mortgage lenders. As you begin your financial and logistical planning, use The Carin Whybrew Project's
home valuation tool
and
mortgage calculator
to gather preliminary estimates
Staging and storage
Photo courtesy of Shutterstock

If you are buying and selling at the same time, you will not have the advantage of being able to move your belongings to your new home prior to selling your old one. Even if you choose to stage your sale home with your own furnishings, you will likely need to secure a storage space to store additional belongings that aren't appropriate for staging. Real estate professionals generally advise that you remove personal and sentimental items from the home. This "depersonalizing" step protects your personal belongings and avoids giving prospective buyers the impression of being in a stranger's home, as opposed to their own future residence.
In spite of the inconvenience it may cause, you would be well-advised to stage your home when preparing to sell it. As many realtors will attest, staging can help a home sell faster and for a higher price. Further, some sources also claim that financial investments in staging tend to have a profitable return. At the very least, you should put some effort toward staging the main portions of your home, including the living room, kitchen, and master bedroom. You can keep it simple, but consider the
benefits of investing in staging
, especially if you are selling a high-end or luxury property.
Using one realtor for both transactions
Unless you have a particular reason not to, it is most convenient for you to buy and sell your home with the same real estate firm. This will eliminate the need of communicating with two different realtors and save you time. However, there may be geographical limitations on your ability to use the same firm for both transactions if you are moving to an entirely different area. Since realtors are licensed by state, your realtor may not be eligible to assist you in another state. However, some states have
license reciprocity
, which allows realtors licensed in one state to do business in another. In addition to these considerations, you can discuss with your realtor what the logistics of moving to a new area will look like.
Choose a qualified realtor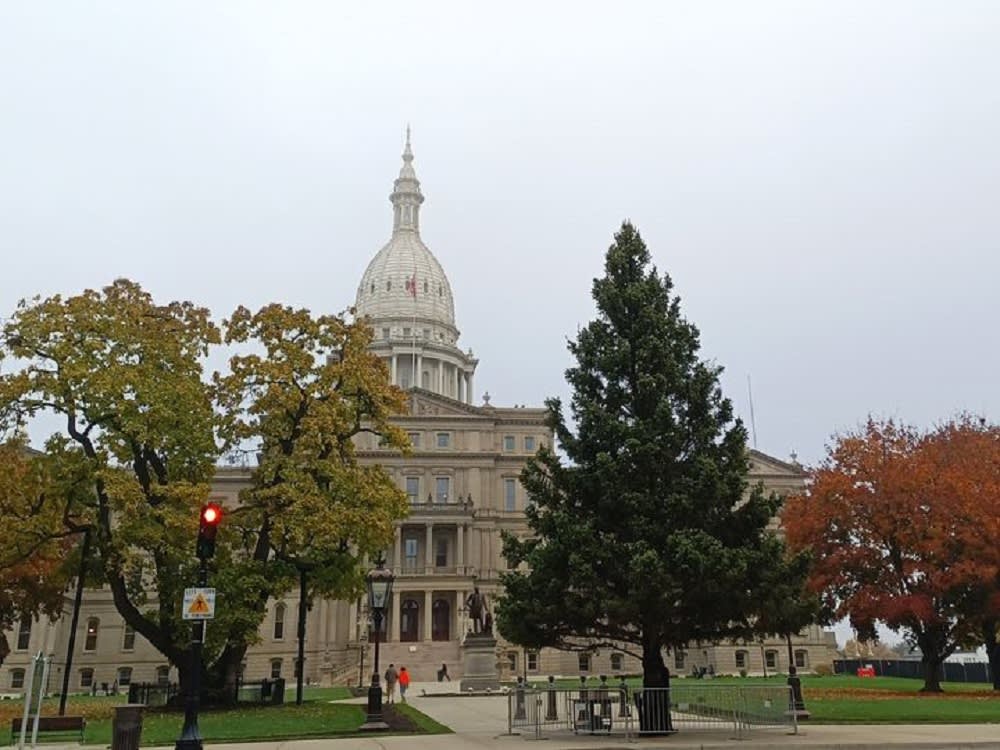 Photo courtesy of the Michigan State Capitol
As you proceed with planning your Lansing area real estate sale and purchase, hiring a qualified realtor should be one of your top priorities. Ideally, your realtor should be equipped to advise you through the transactions.
Carin Whybrew
is a Michigan real estate agent who leads a team of talented and experienced realtors. Carin and her partners can facilitate your home sale, purchase, or both as needed.
Review The Carin Whybrew Project's
portfolio of listings
to see the caliber of real estate that the firm lists and purchases. Reach out to a member of Carin's team when you are ready to take the leap into buying and selling your home.

*Header photo courtesy of The Carin Whybrew Project