Nestled in the heart of Okemos, Michigan, a transformation of grand proportions is on the horizon. The proposed development project known as the Village of Okemos has been generating anticipation and interest, promising to reshape the landscape of our area for the last few years. In this article, we'll dive into the details of this ambitious endeavor and explore how it is poised to create a much needed downtown area.
A Glimpse into the Village of Okemos Project
The Village of Okemos Project is a comprehensive redevelopment initiative that aims to create a vibrant, cohesive community hub. Spearheaded by local authorities and planners, this project is set to blend modern urban amenities with the area's rich history, ensuring a harmonious balance between tradition and progress.
The proposed mixed-use redevelopment project is on two underutilized, abandoned, vacant and contaminated Village blocks. The project blocks are located at the intersection of Okemos Road and Hamilton Road have been designated as "Block 1" (northwest of the intersection) and "Block 2" (southwest of the intersection), respectively, and will be comprised of an estimated 257,534 gross area square feet of residential and commercial business spaces in four newly constructed mixed-use buildings.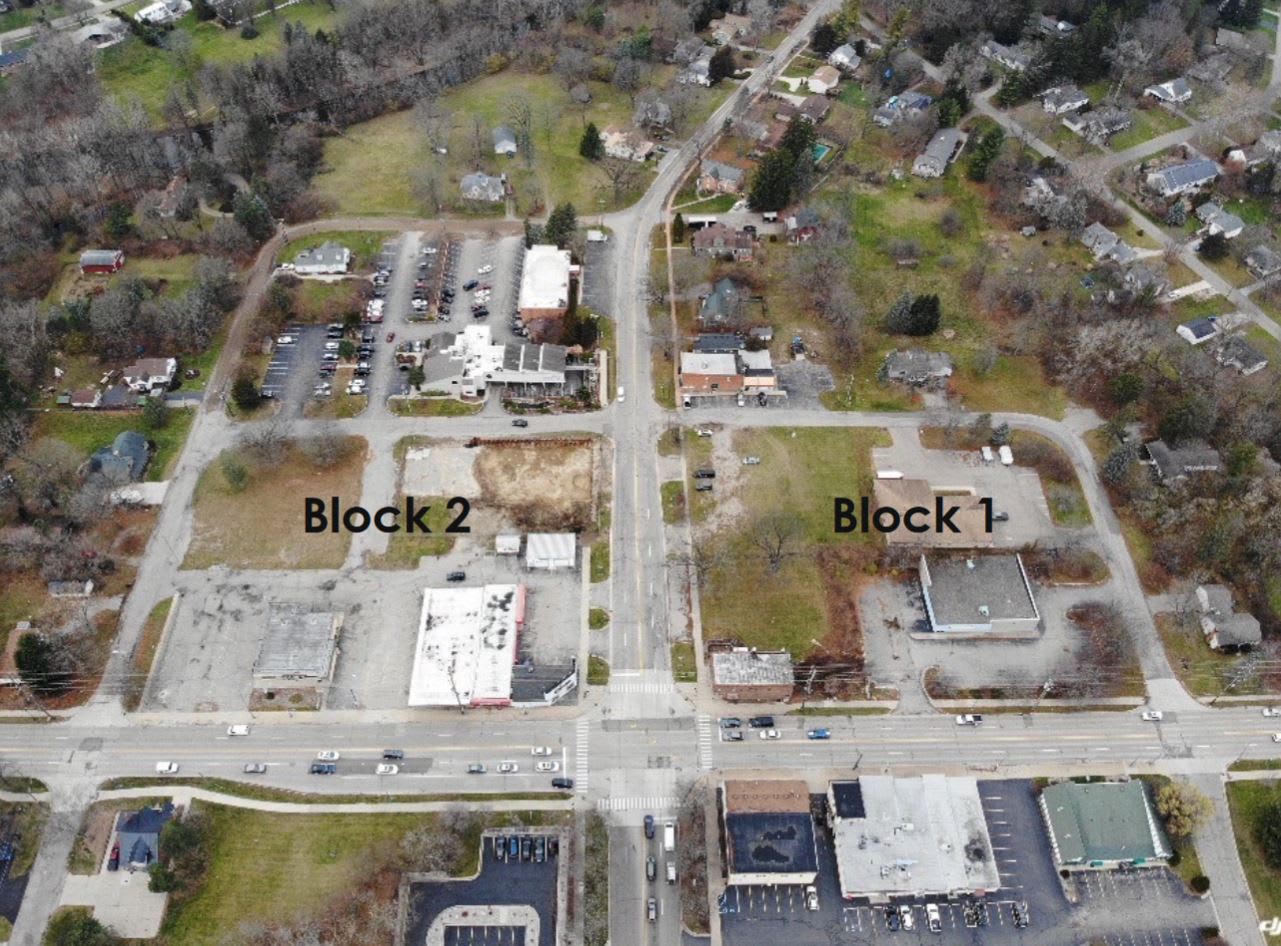 Mixed-Use Spaces: A Fusion of Commerce and Community
One of the focal points of the Village of Okemos Project is the integration of mixed-use spaces. These versatile areas will seamlessly blend retail establishments, dining options, office spaces, and residential units. By facilitating organic interactions between business owners, residents, and visitors, these spaces will invigorate economic activity while fostering a strong sense of community. The mixed-use recreation of the Village of Okemos with major infrastructure improvements is transformative in nature and will add over 100 jobs adding approximately up to $85 million in new capital investment to the Okemos area.
Walkability and Pedestrian-Friendly Zones
Enhancing walkability is a cornerstone of the project. Wider sidewalks, designated bike lanes, and well-planned crosswalks will encourage residents and visitors to explore the area by foot or bicycle. This emphasis on pedestrian-friendly design not only promotes a healthier lifestyle but also reduces traffic congestion, contributing to a more sustainable urban environment.
Rooftop Spaces: Oasis of Tranquility
In a bustling urban environment, elevated green spaces serve as invaluable retreats. The Village of Okemos Project places a premium on rooftop areas incorporating green promenades throughout the area. These pockets of nature will provide residents with spaces to relax, socialize, and enjoy the outdoors, adding an essential element of serenity to the urban fabric. The view should also be fantastic!
Conclusion
This development endeavor goes beyond physical changes; it's about reinvigorating a community, preserving its heritage, and embracing the potential of a modern urban environment. By introducing mixed-use spaces, prioritizing walkability, cultivating rooftop green spaces, and embracing innovation, the project aims to create a vibrant, inclusive, and sustainable downtown hub that will serve as a testament to the collaborative spirit of Okemos' residents and authorities. To stay up-to-date with the latest developments and progress, be sure to reach out to your local real estate experts, The Carin Whybrew Project for more information!
As the Village of Okemos Project unfolds, the landscape of the area is destined for a remarkable transformation. After a community conversation in Meridan Township, developers for the Village of Okemos project now have a timeline saying vertical construction of the project should begin in the spring of 2024.a